This vanlife blog has everything. From the most in-depth guides and tutorials on van conversion to jaw-dropping photography of life on the road. Keep reading to find out more about the vanlife blog you don't want to miss.
Who They Are
The vanlife duo behind The Indie Projects is Theo and Bee. You'll find them travelling Europe in their converted Mercedes Sprinter LWB van accompanied with their super cute cat, Ginjey Bear.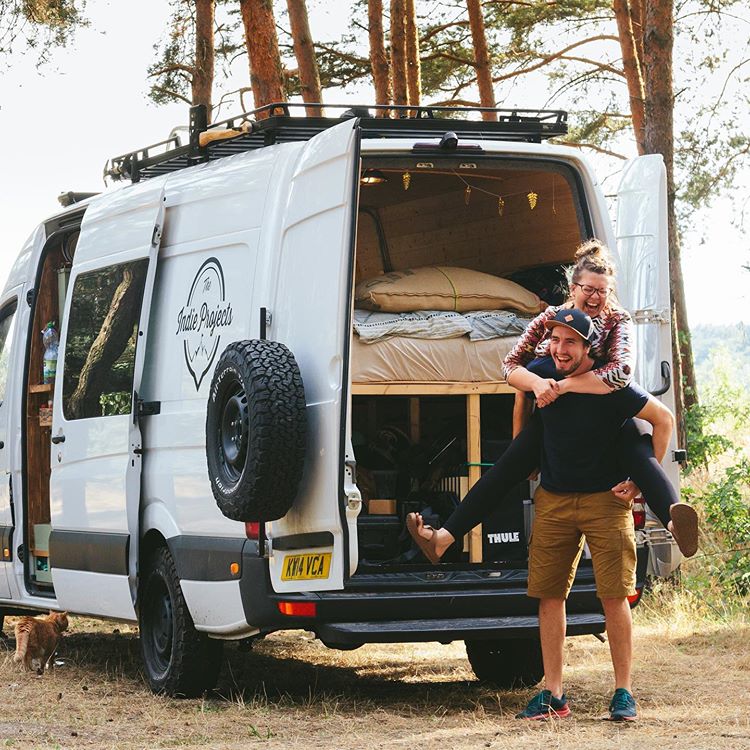 This awesome couple has been together for over 13 years.
Currently, they have 20,000 miles under their belt and have visited no less than 18 European countries.
But vanlife wasn't always their norm. 10 years ago, Bee graduated with a degree from University and started on the cooker-cutter path of buying a house with her partner, Theo.
But they both knew that normal life wasn't for them. Bee quit her job to volunteer in a bird reserve and Theo quit his job to live in a van. Suddenly, they'd left behind the life they thought they wanted and started something far more adventurous.
They began documenting their vanlife on their website VDubVanLife. But over the years that has evolved into the fantastic hub that is The Indie Projects.
Their Van
Theo and Bee bought a converted LWB Mercedes Sprinter in 2018. But they didn't start out in this epic van (keep reading to find out more about the amazing conversion). They say that their first van had just the basics; a coolbox, some storage, and a Beech/ bed. This was in a Citroen Berlingo.
Before they got their Sprinter in 2018, they lived in a VWT4 for 18 months. And before that, they lived in a narrowboat for 3 years. In fact, it's been 5 years since Theo and Bee lived in a house.
Once they decided to take the plunge and buy their Sprinter, they wanted something that would last on their adventures. The conversion is something to be inspired by and they have done wonders in their little space.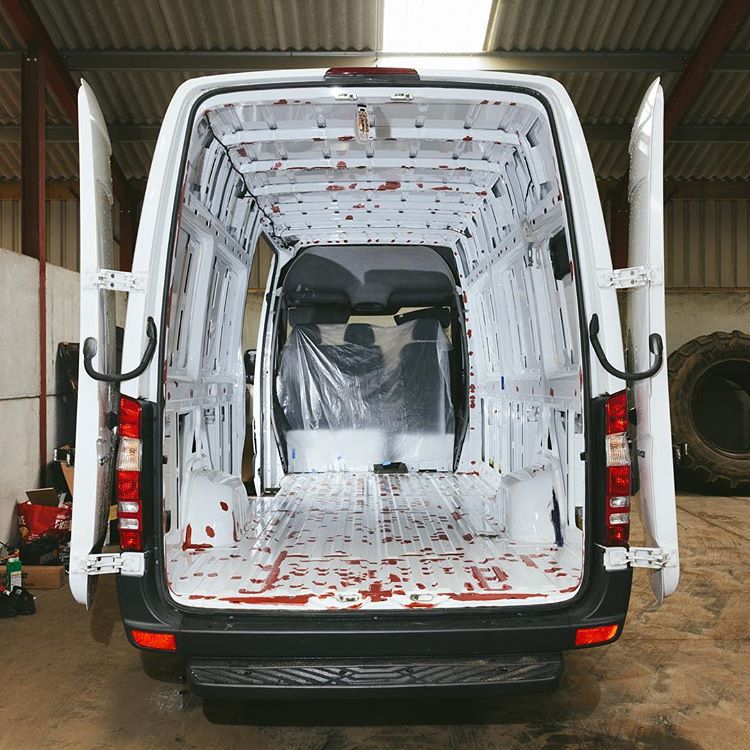 They installed a kitchen using second-hand cabinets. As well as a sink, fridge, gas cooker (and the necessary ventilation), a water pump, and finished it all off by painting it in chalky pastel colours.
They have used wooden crates, cat-friendly upholstery and caravan cushions to make the living space just that. And by using an Ikea mattress and bed slats from the same place, they have a beautiful, comfy place to live. Not forgetting something Theo and Bee calls a must-have for privacy – a bed curtain.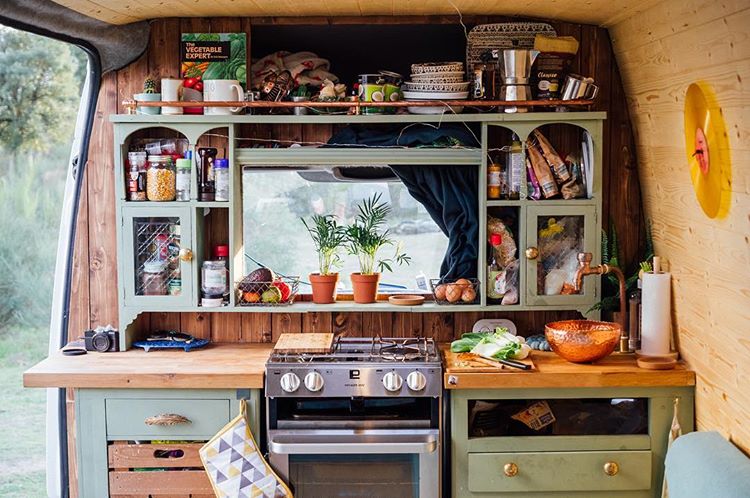 They have also added beautiful internal nautical lights. Externally, they have a roof rack for added storage, a 4G booster, and even a few solar panels to help power the internal appliances.
They've got an entire YouTube series documenting their van conversion if you're looking for some amazing inspiration (be prepared for a binge session).
The Indie Projects Vanlife Blog
If you've ever dreamed about quitting your job, buying a van, and hitting the road, this is the blog you need to read. Theo and Bee document every aspect of life in a van in an honest and upfront way.
They've got an awesome post showing you the real cost of living in a van which gives you a look at the costs involved and how to pay for this alternative lifestyle.
They've also got an adorable post on life in a van with a cat. If you want to see some cute pictures of Ginjey Bear, this is one you'll want to check out.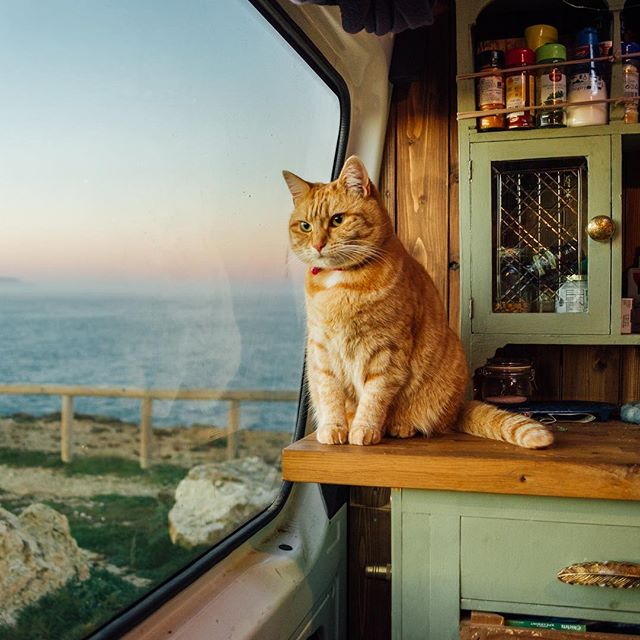 In addition to their blog, they also offer a free Ebook that documents everything needed to follow in their footsteps.
The book talks about how to kit out your van to suit your needs. How to make the most of wifi and mobile hotspots. Where and when to visit places in Europe and the tolls and taxes involved. And most importantly, a really honest look at budgeting and what costs can be incurred by joining their lifestyle.
This is a must-read if you are thinking about vanlife for yourself.
Their Youtube Channel
Get ready to binge on the coolest vanlife channel you'll find. Theo and Bee's channel is fun, chilled and gives you a real inside look into life on the road.
Each 20-minute episode of their channel gives you a different perspective on living in a van, conversions, their journey to the arctic circle, and more.
They are down to earth so it's a really easy watch. The best part is they are upfront about issues they have encountered and the costs associated with their lifestyle. So you can prepare yourself for the not-so-glamorous side of life on the road.
If you're new to their channel, definitely check out the video on their van conversion. The transformation will blow your mind. The videos are informative and the descriptions will tell you where to get the stuff to do it yourself.
They've also got an entire series on their current Arctic Circle Adventure. The latest episode shows you how they crossed from Tallinn to Helsinki as well as some awesome shots of Finland. If this doesn't inspire you to ditch that 9-5 and start travelling in a van, I don't know what will.
The Alternative Living Podcast
If blogs aren't your thing, the Alternative Living Podcast is the perfect way to learn about life on the road. Play it while you're commuting, cleaning up, at your best friend's wedding (seriously, prepare to be hooked).
Their podcast started way back when they lived on a narrowboat. Now, it gives the best tips and advice for people looking to live in a van. As well as a peek into their own vanlife journey.
It's funny, inspiring, and a great way to prepare for your own adventures. So make sure to check out the latest episode on the process of travelling through Scandinavia in a van.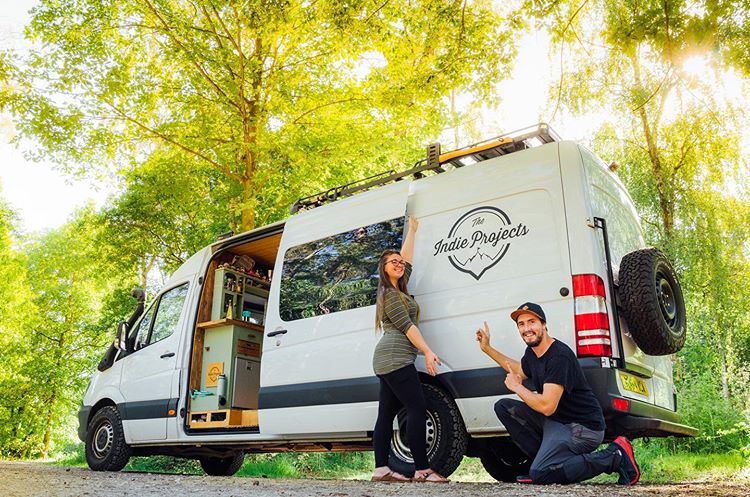 What are they currently doing?
After spending some time living on a plot of land they own in Portugal, Theo and Bee took on an epic journey to the Arctic Circle. And they've just made it there!
After spending some time in the UK, Theo and Bee took on a 1,800-mile drive in just 6 days to get to Finland. They've written an awesome post about that tough journey and even outline how they managed to save £400! Make sure to check it out.
To see the full journey they planned to get to the Arctic Circle, you can check out their map here.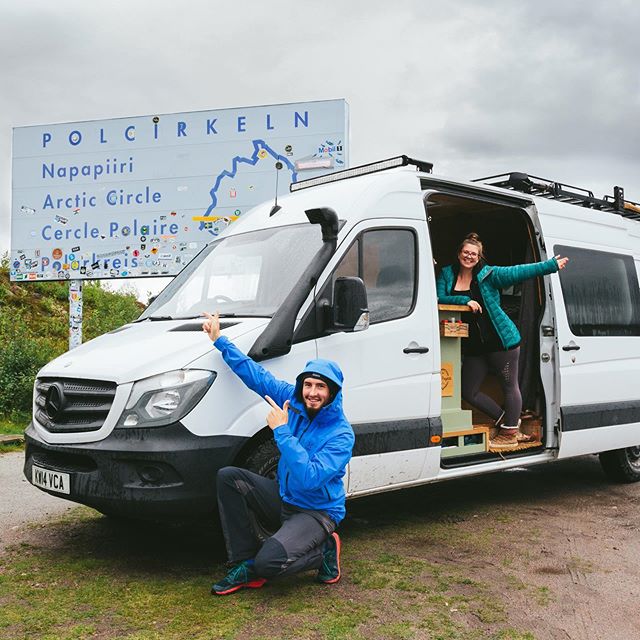 Follow The Indie Projects
Theo and Bee have created so many awesome resources for anyone interested in vanlife. From their free eBook to their in-depth guides and hilarious podcast, there is just so much content to binge on.
Make sure you're following them on Instagram to keep up to date with their journey to the Arctic Circle and subscribe to their YouTube channel and Podcast to never miss an update.